Curls & More, the genesis
Curls & More is a company focused purely on curly hair. It is the umbrella name of the Curls Control curl product line and CC1 curl cutting techniques. The specialists at Curls & More will take you into the world of the perfect, frizz-free and resilient curl.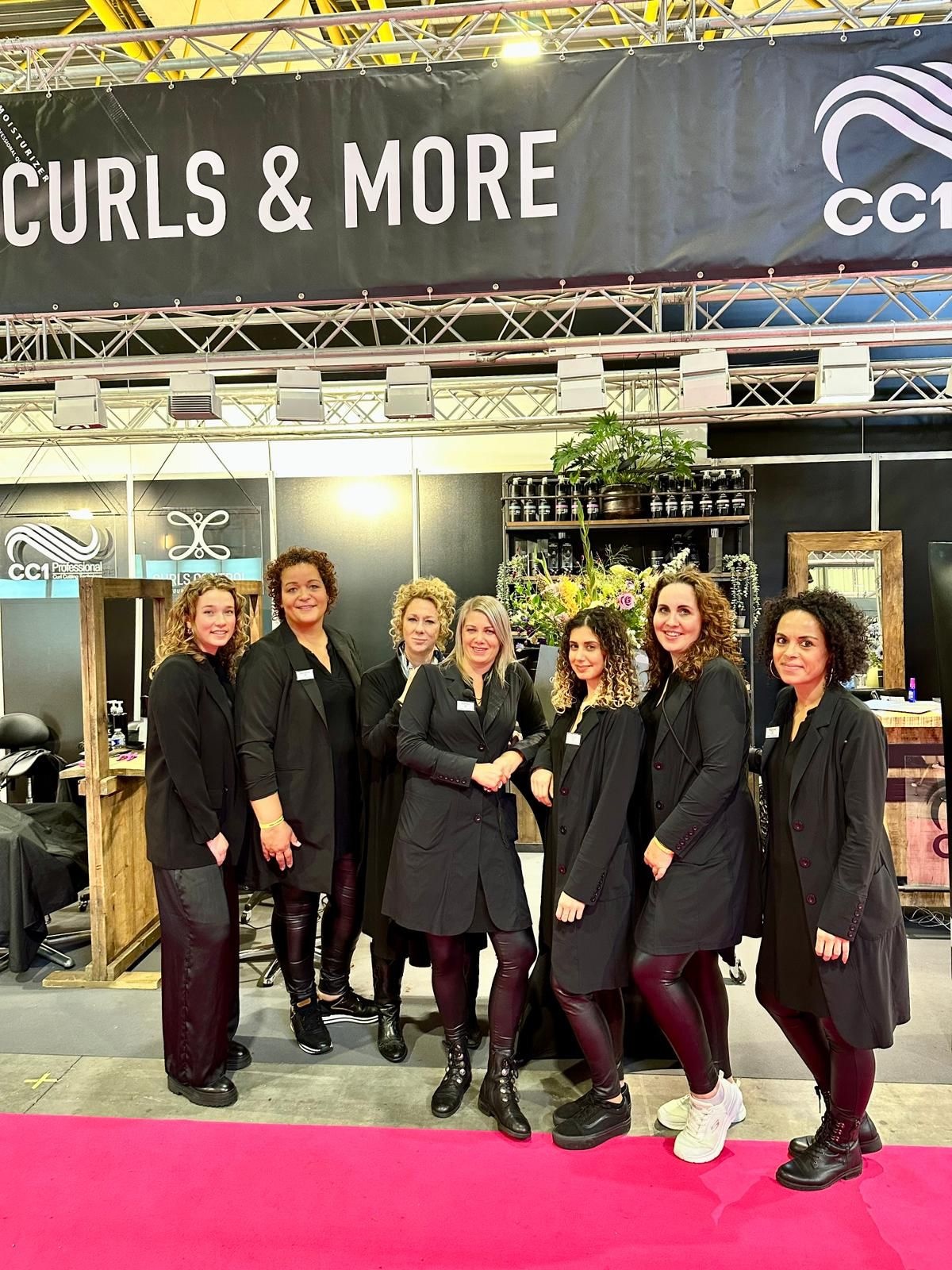 Only experienced and qualified trainers work at Curls & More. These have attended every conceivable curl cutting training course at home and abroad. No single technique led to the ultimate result, so Curls & More decided in 2017 to pool all knowledge and skills and develop its own CC1 curl-cutting techniques. This made Curls & More one of the first providers of thorough technical curl cutting training. The golden formula of the CC1 training courses combined with the Curls Control products was an absolute first in the Netherlands.
During the trainings, a piece of theory is provided, about curls and their care in particular. After lunch, participants learn to apply the CC1 technique on a model they bring along.
Naturally, Curls Control products will be used during the training. However, it is not an obligation for a salon to work with them. Curls & More offers a fantastic and unique total concept of product and technique. This gives you a golden formula as a salon to make every curly-haired person overjoyed.
WHY CHOOSE THE CC1 TECHNIQUE?
The CC1 technique was developed after the hairstylists at Curls & More could not find a single technique that enabled them to achieve the ultimate result with every curly head. Using certain sections, the CC1 Level I technique creates brilliant volume vertically on wet hair. The hair can be blow-dried if desired, so no bites and curves are cut.
Curls & More is constantly evolving. Just as you continue to develop as a hairstylist in terms of colouring and cutting techniques, the world of curls is constantly evolving. In today's multicultural society, more and more so-called 'mixed curls' are seen. To perfectly shape these stronger curls, Curls & More launched the CC1 Level II dry cutting technique in 2021. This once again creates stunning volume without the accumulation of bundles.
INFORMATION ABOUT CURLS CONTROL
Curls are hot and booming and finally they are allowed to be worn and seen. This professional line has been developed especially for curly hair. The products are not available from wholesalers and are only sold through salons and the Curls Control site. With a base of just four products, it stands for simplicity and professionalism. The products are free of parabens, sulphates, drying alcohols and silicones and for that reason fit within the Curly Girl method. More and more curly girls want to wear their curls and, above all, care for and protect them properly. Curls Control is the ultimate line for this and is suitable for every type of curl. What Curls & More believes in? "Curly hair is not a trend, it's a lifestyle". And the Curls Control products fit that perfectly.
Back to homepage